This month at Made With Love we are assigned to create something about weddings. So before I started I listed down some points that I would like to consider ....
wedding - I have always wanted to do our wedding album (for 9 years now!). Got everything ready including the two leather albums, the color scheme, the materials.... but I don't know why I always not do it. NOW is the time!
Sizzix/diecutting - thanks to hubby for installing Ecal software into my toy, It is going to be my first show using it!
cheap and simple and clean and flat but pretty - I don't want my album to be very fat and heavy. So I must make sure my embellishments are not overly 3D.
economical - I think that's common in all my projects. I believe scrapbooking doesn't have to be expensive. What's important are the photos, the story, the sentiment. Not the trend, the expensive stuff you buy from store and how plenty of whatever-it-is you put into a layout. Let me share with you what I did...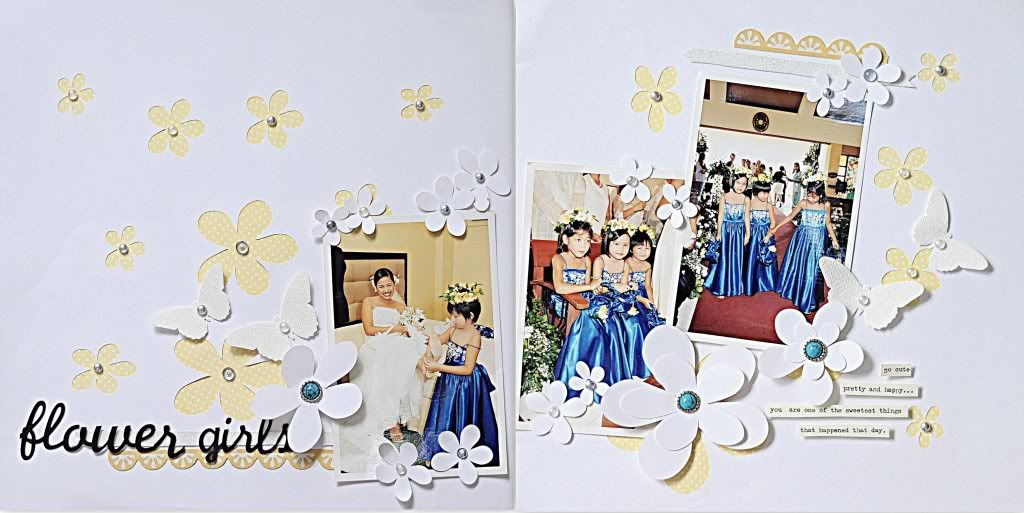 I usually start a layout with an inspiration in mind. With this I was imagining beautifully-taken photos just lying on the floor... showered with confetti and dainty, pretty flower petals...
What I first did was to make my title. I learned how to form and weld using any font. Changed it many times until I was satisfied. Love love love this!
Next thing, I made my own die-cut papers. I just clicked a basic flower shape, copied and randomly pasted it all over the page, adjusting the sizes using my mouse... I wanted to make a double-layout so I cut two pages... super easy and fun!
... nothing goes to waste here. The negative becomes the page itself while the flowers on the mat will be used to add more dimension. Finished products are shown below :)
... I added a yellow polka dots paper underneath.
This is by far the cheapest page I have done!
I can hear you protest: "But Eclips Ecal is expensive!" and I answer: "Yeah but I am able to use it a million times! No more dies, no more cartridge, no more endless shopping for embellishments because I can create my own!"
What do you think? :)

Supplies:
papers: yellow polka dot from Jillibean Soup
+ 2 white 12x12 CS which is already included in
the wedding album I bought at half the price from MWL
butterfly: left over from class - Prima
sticker: left over from previous project - Crate Paper
brads: I bought from Philippines for just less that $1/pack of 6
dew drops - I think this is the only pricey one (but all my pages must have this! #fave!)
for my journaling: typewriter + scratch paper
adhesives - well of course.